Tomiji gave me a basic lesson. Diagonal stride, skating or how to change a standing direction…
Don't be surprised! He is 88!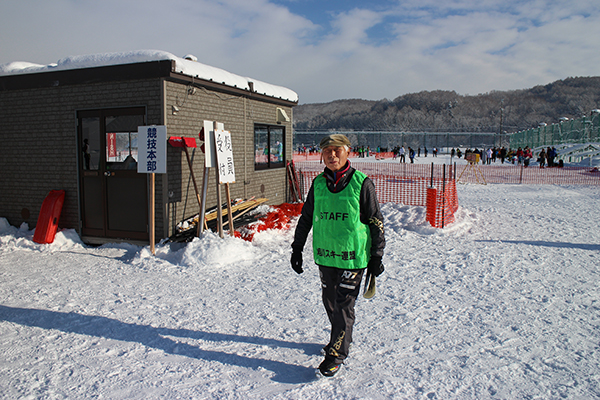 He has been doing cross-country skiing for a long long time.
For myself.
His gentle words are very simple and touching.
But actually he is busy for coaching kids and working for operations of competitions, hardly can make time for his own skiing.
"Smoothly, smoothly… Like this…"
Every action seems easy but it's not so to do…
And another person, Kohji. He is a mountain guide. As I had no chance to make a picture of him, I introduce here his web page. Enjoy mountains in winter and summer!
Two guys are chattering at the office of Tomisawa cross-country course.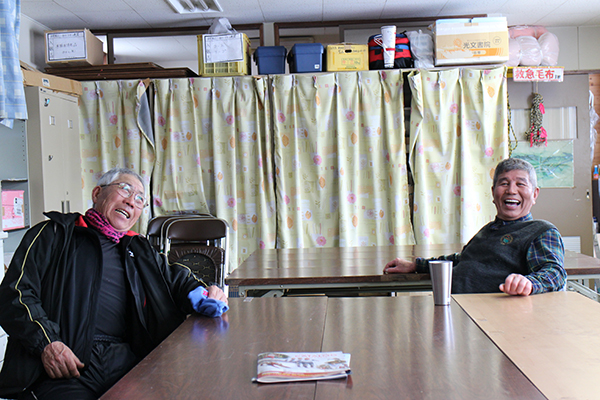 Hajime, on the right, is the concierge of this cross-country course.
He vividly talked me about young cross-country skiers.
He likes to be in nature, pitches a tent and enjoys himself in nature.
Tsuyoshi on the left allows me use his ski shoes as my size is bigger than general lady's one.
I miss something when I stay at home.
So he comes here to ski.
"All who come here are old men. Average age is about 70 years old, isn't it?"
They go up the slope and are stable even if they ski in high speed.
That's unusual!
Toshiaki, who is cool in a mustard green suit by Helly Hansen, is the operation manager for course making in Tomisawa.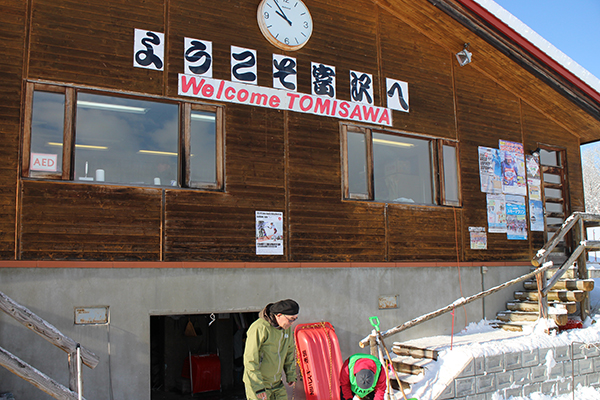 For skiers' comfort and safe, to make flat routes in the direction of movement, he controls a snow tractor, heaps snow up on the lower side and puts snow out on the higher side. Two parallel trucks for classical skiing don't exist without his work in early morning.
He tells me when he guides a course.
An owl was there.
"Passing here to make the course, he looked at me. He disappeared after the tree fell down."
What did you talk about with the owl?
Others are also very warm.
A man gave me advice about the gear or skiing equipment,
the other coached me when I try to ski alone…
They are all generous and gentle to the stranger, who wanted to do cross-country skiing, not Alpine skiing.
Thank you everyone.
The words make me happy.
Come again!
Yes!
---
* Tomisawa cross-country course is municipal. For further information, visit the page by Tomisawa city, sport division (in Japanese). Kindly be aware that the course is not a commercial but a municipal facility.